AFLAS Awards
Voting is now underway for the 2019 Asian Freight, Logistics and Supply Chain Awards (AFLAS).
As ever, the awards are designed to honour the respective winning organizations for demonstrating leadership as well as consistency in service quality, innovation, customer-relationship management and reliability. We welcome your input in helping to determine this year's winners.
Following the nomination round, the names of up to eight nominees have been shortlisted for almost all the award categories. This year  the Best Seaport - North America award has been split into Best Seaport - North America East & Gulf and Best Seaport - North America West Coast.
You may vote using the link
here
Please take a few minutes to vote for your choice of winner. The winners will be announced at our awards ceremony in Hong Kong in Jun 2019.
Many thanks in advance for voting, and I look forward to your continued participation in the 2019 AFLAS Awards.
Brought to you with the support of: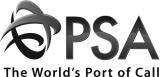 You can read about some of the previous AFLAS Awards here: