SUPARNA AIRLINES LAUNCHES OSLO SEAFOOD FLIGHT
August 21, 2019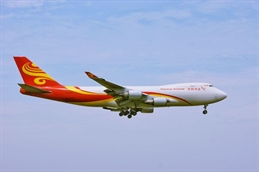 Shanghai-based Suparna Airlines announced it is launching a twice-weekly freighter service between Oslo and Nanjing starting September 1 to address the growing demand for fresh Norwegian seafood in the Chinese market.
OSL's operator, Avinor, who made the announcement, said the freight service will use a Boeing 747-400F with scheduled departure from  Oslo at 4:30 p.m. local time on Thursdays and Sundays, arriving in Nanjing at 9:00 a.m., also local time, the following day.
Located around 290 kilometres (180 miles) west of Shanghai, Avinor said Nanjing is well situated as a gateway to serve the growing import of seafood.
"With the planned operations, we expect seafood up to about kr250 million [US$27.9 million] in export value annually on this route," said Martin Langaas, director cargo at Avinor.
Suparna Airlines is a part of the Chinese HNA Group, which also owns and operates Hainan Airlines.