UPS SECURES APPROVAL FOR DRONE AIRLINE
October 2, 2019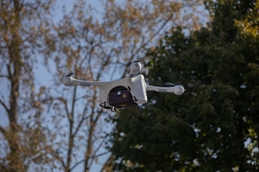 UPS subsidiary UPS Flight Forward has received the certification from the US Federal Aviation Administration to operate a drone airline.
UPS said in a statement that it will initially expand its drone delivery service to support hospital campuses around the country and to eventually provide solutions for customers beyond those in the healthcare industry.
"UPS Flight Forward plans in the future to transport a variety of items for customers in many industries, and regularly fly drones beyond the operators' visual line of sight," the American logistics company said.
Partnership with Matternet
UPS formally launched its new drone subsidiary in July after earlier partnering with Swiss drone-maker Matternet to launch its healthcare delivery service at WakeMed's flagship hospital and campus in Raleigh, North Carolina.
With the FAA  certification, UPS said it is ready to build on this application and expand to a variety of critical-care or lifesaving applications noting that it was able to prove early on the need for drone delivery in healthcare operations, where the shortest time in transit can improve efficiency and help healthcare professionals serve their patients better.
"This is history in the making, and we aren't done yet," said David Abney, UPS chief executive officer. "Our technology is opening doors for UPS and solving problems in unique ways for our customers. We will soon announce other steps to build out our infrastructure, expand services for healthcare customers and put drones to new uses in the future."
FAA's Part 135 Standard certification — the highest certification for commercial drone operation — has no limits on the size or scope of operations and UPS is the only company so far to have obtained such.
It will permit UPS to fly an unlimited number of drones with an unlimited number of remote operators in command, enabling UPS to scale its operation and allow the drone and cargo to exceed 55 pounds and fly at night, previously restricted.
"This is a big step forward in safely integrating unmanned aircraft systems into our airspace, expanding access to healthcare in North Carolina and building on the success of the national UAS Integration Pilot Program to maintain American leadership in unmanned aviation," said US Secretary of Transportation Elaine L. Chao.     
Path forward
Following the Part 135 Standard certification, UPS Flight Forward said it plans to integrate drones into the UPS logistics network expanding beyond delivery service to hospitals and medical campuses to the transport of special commodities and other regulated goods, construct a centralized operations control centre, conduct regular and frequent drone flights beyond the operator's visual line of sight and  to partner with additional drone manufacturers to build new drones with varying cargo capacities.
The US FAA awarded UPS Flight Forward the certification on September 29. The UPS subsidiary immediately launched the first drone delivery flight by any company under Part 135 Standard at WakeMed's hospital campus in Raleigh, NC.
The flight used a Matternet M2 quadcopter which was flown under a government exemption allowing for a "beyond visual line of sight" operation. It also became the first regular revenue-generating delivery.