SWISSPORT SET TO LAUNCH CARGO FACILITY IN MELBOURNE
January 20, 2020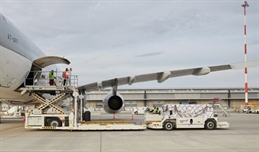 Swissport is set to launch its first cargo business in Australia following the signing of a lease agreement for a brand-new cargo facility at the Melbourne Airport.
The brand-new facility features direct airside access and cargo facilities for handling and storage of general cargo, animals, pharmaceuticals and perishables.
"With this launch, we bring a fresh approach and a more competitive offer to a market that has not seen a new entrant for more than 20 years. Swissport has industry-leading processes, training and systems built up across more than 300 sites worldwide over our 25-year history and we will provide a nimble service model designed to better meet customer requirements and deliver on both price and service," said Glenn Rutherford, Swissport executive vice president Asia-Pacific.
Melbourne Airport Senior Property Development Manager, Gavin Potts said Swissport's presence will benefit air freight operators at the airport.
"We're pleased to welcome Swissport to Melbourne Airport's Business Park. The new facility joins other industrial leaders in benefiting from 24/7 air freight opportunities, round the clock security and unrivalled proximity to arterial road networks," Potts said.
The ground and cargo handling provider said the initial lease is for seven years and the facility is due to open in the third quarter of 2020. 
Further locations across Australia will also be announced this year.