25% OF GLOBAL FLEET GROUNDED IN MARCH - CIRIUM
March 26, 2020
In-storage aircraft figures has been rising on a daily basis as the ongoing coronavirus outbreak (Covid-19) continues to batter the airline industry according to industry data and analytics provider, Cirium.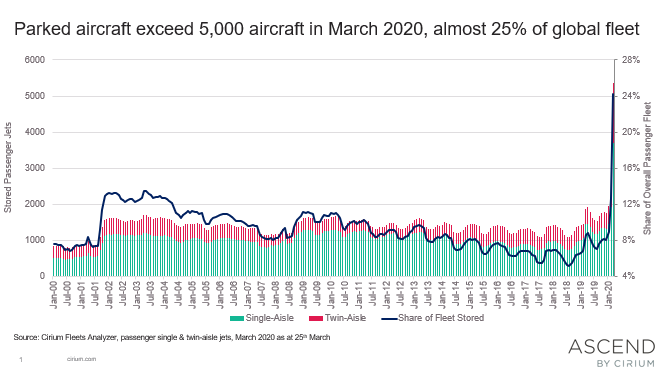 As of March 25, Cirium said the "rate of contraction of the global in-service passenger jet fleet continues to accelerate unabated," noting that it reclassified nearly 800 additional aircraft as "stored" over the past 24 hours.
"The grand total of in-active airliners is rapidly approaching 7,000 as the industry sails further into uncharted waters," Cirium said in its stored commercial aircraft update – for the day. 
Cirium said its research team has identified nearly 300 more Airbus narrow bodies that meet its criteria for having been withdrawn from active duty, while the corresponding figure for Boeing is a little over 200.
Lesser active widebody aircrafts on flight


It noted that the widebody fleets continue to be severely impacted, with another roughly 100 Boeing twin-aisles having been parked up, together with approximately 60 more A330s, A340s, A350s and A380s.
"Looking at the A330 widebody twinjet fleet for Monday 23rd March, just over 300 aircraft operated nearly 600 flights and approaching 3,000 flight hours. These figures have declined by approximately 50% compared with a week earlier (Monday 16th March)," Cirium said.
"A comparison with Monday 25th March shows a decline of 70% in the number of active aircraft and a close to 80% reduction in daily hours and cycles," it added.
Cirium said it continues to log daily hours and cycles utilisation of the global fleet using its more than 600 sources of flight tracking information.