DELTA RESUMES CHINA OPERATIONS WITH CARGO CHARTER
March 31, 2020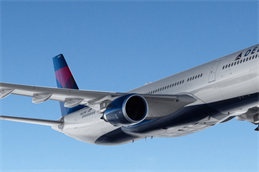 Delta Air Lines is resumed regular operations to China with the launch of three times weekly Detroit-Shanghai cargo charter service starting on March 30.
The service will be operated with a fuel-efficient A350-900 aircraft, offering up to 49 tons of belly-hold capacity.
In a statement, the US airline said the new cargo charter operation provides safe transportation of essential goods using the passenger aircraft that would otherwise be parked.
"As demand for medical supplies continues to grow in the US, vital supply lines are getting a boost as Delta restarts regularly scheduled operations from China with the launch of cargo-only flights between Shanghai and Detroit," Delta said.
The flights will operate three times weekly. Once the cargo arrives in Detroit, it will be transferred to domestic passenger flights to be shipped to destinations around the US.
Movement of medical supplies, equipment
"We know getting surgical masks, gloves, gowns and other protective equipment expeditiously to facilities across the country is imperative to protecting medical professionals and helping address the COVID-19 situation," said Shawn Cole, Vice President – Delta Cargo. "Operating regularly scheduled cargo flights means suppliers in China can get these supplies to hospitals and healthcare facilities across the US within hours, not the days or weeks it would take via cargo ship."
Delta has been operating on-demand charter flights to support the growing need for air cargo. Last week the airline flew several flights between Dublin and Atlanta and Los Angeles and Sydney. 
The airline said it will evaluate increasing frequency to daily or opening additional US gateways, based on demand.