HK REPORTS LOWER VOLUMES IN FEBRUARY DUE TO COVID-19
March 31, 2020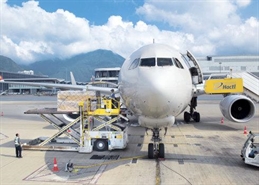 Hong Kong reported that cargo volumes for February dropped some more from an already slow January due to the impact of the ongoing coronavirus disease (Covid-19) outbreak that has already spread across 150 countries and territories worldwide.
Hong Kong International Airport said cargo throughput dropped 8.9% in February to 251,000 tonnes compared to the same month last year.

Combining the figures for the first two months of this year, which eliminates the effect of Chinese New Year falling in a different month in 2019 for a more meaningful comparison, it said HKIA handled 611,000 tonnes of cargo, which is also lower by 9.8% compared to a year ago.
On a 12-month rolling basis, cargo throughput declined by 6.2% to 4.7 million tonnes.
"With the impact of epidemic and the late resumption of Mainland China factories production, cargo traffic remained weak in the first two months of the year. Decreases by 14% and 11% were recorded in transshipments and exports, respectively. Among the key trading regions, traffic to and from North America and Europe decreased most significantly in the period," HKIA said in a statement.