IMO STANDS READY TO ASSIST LEBANON FOLLOWING EXPLOSION AT PORT OF BEIRUT
August 6, 2020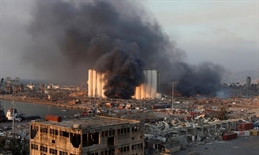 The International Maritime Organization (IMO) said it is ready to assist the government and people of Lebanon following the catastrophic explosion at the Port of Beirut that killed at least 135 people and injured more than 4,000 others.
"I express my deepest condolences and sincerest sympathies to the families of the victims and to the Government and people of Lebanon following the catastrophic explosions in the port of Beirut yesterday. The port provides a vital artery bringing food, medicines and supplies to the country and its destruction will have devastating consequences," said IMO Secretary-General Kitack Lim.
"The United Nations is assisting the immediate response to the incident. The International Maritime Organization stands ready to assist in any way we can," he added.
A huge explosion rocked the Lebanon capital on August 4 caused by 2,750 tonnes of ammonium nitrate stored unsafely in a port warehouse.
Customs chief Badri Daher said his agency called for the chemical — which has been stored there for six years -— to be removed, but "this did not happen".
Port of Beirut is among the top 10 seaports in the Mediterranean Sea and is considered the gateway to the Middle East.