LATE YEAR SURGE BOOST PORT OF LA'S VOLUMES TO NEAR 2019 LEVEL
January 15, 2021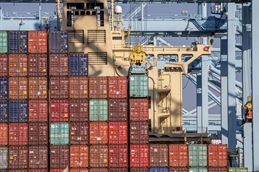 Port of Los Angeles said it processed 9.2 million Twenty-Foot Equivalent Units (TEUs) in 2020 with a "late-year surge" of pandemic-induced consumer spending helping to boost volumes to near 2019 levels.
"Our container business in 2020 was the most erratic we have ever seen, with volumes plunging nearly 19% in the first five months of the year, followed by an unprecedented second-half surge," said Port of Los Angeles executive director Gene Seroka.
America's busiest container port saw third- and fourth-quarter 2020 cargo volumes increased 50% over the first half of the year, with the Port handling a remarkable 94% more traffic the week before Christmas than the same week in 2019.
2020 volumes slightly down
Port of LA noted that it ended the year down approximately 1.5% compared to 2019 cargo volumes.
Meanwhile, Seroka said the Port's priorities for 2021, include job creation, cargo growth, infrastructure investment, accelerating zero-emission technology development and deployment, and continued development of a thriving waterfront community.
He reiterated the Port's focus on supply chain efficiency and optimization, calling for nationwide port data connectivity that could provide enhanced visibility, efficiency and choice for cargo owners, as well as a more stable supply chain.
"If we want America to improve as a leader in global trade, we need nationwide port data connectivity with agreed-upon data standards and open architecture system that provides interconnectivity between major U.S. ports, service providers and the freight they move," Seroka said.
The Port noted that it remained open with all terminals operational during the COVID-19 pandemic. The Port of Los Angeles facilitated US$276 billion in trade during 2019.