ECS GROUP APPOINTED AS QATAR AIRWAYS CARGO'S GSA IN UAE
February 23, 2021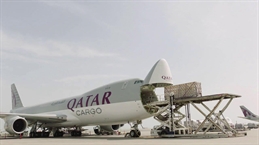 As of February 21, ECS Group will be supervising the management of cargo capacity via its subsidiary Globe Air Cargo.
Qatar Airways operates fourteen weekly flights from Dubai and daily flights from Abu Dhabi.
In a statement, it said in preparation for this much-awaited recommencement of cargo sales and bookings in the United Arab Emirates, ECS has bolstered its local teams, with a dedicated team supervising the scheduled flights seven days a week.
"We are delighted to be able to count on ECS Group, with who we share our values of service excellence and customer-centricity. Their perfect understanding of the airline's processes and their excellent reputation in the region were key factors in our choice," Ehab Matta, senior manager Regional Cargo – Indian subcontinent, Middle East and Pakistan said.
"We welcome Qatar Airways' return to the Gulf region. At ECS Group, all the teams in place are fully committed and are ready to support our partner, Qatar Airways Cargo, as they recommence cargo sales and bookings" said Adrien Thominet, CEO of ECS Group.