KOREAN AIR BRINGS FIRST VACCINES TO KOREA
February 26, 2021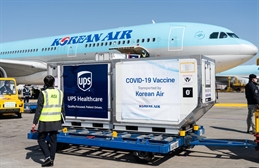 Korean Air has brought the first Pfizer COVID-19 vaccine to Korea. The Airbus 330 aircraft delivered 117,000 doses – enough for 58,500 people – from Amsterdam, the Netherlands to Seoul on 25 February.
The vaccine transport was a collaboration among Korean Air; Korea's Ministry of Land, Infrastructure and Transport (MOLIT); the Korea Centers for Disease Control and Prevention (KCDC); Korea's Customs Service; the Korean military and police, and UPS, the global logistics company.
In a statement, the South Korean flag carrier said it loaded the vaccines packed in 21 custom-made boxes into special containers and transported them in a temperature-controlled environment.
As vaccines require a variety of temperatures for shipping and Korean Air has established itself as a carrier able to accommodate sub-zero shipping temperatures.
The airline said UPS oversaw transporting the Covid-19 vaccine until it was loaded onto Korean Air from the Belgian production plant. After its arrival in Seoul, UPS transported it to vaccination centers in five Korean cities including the National Medical Center in Seoul.
As one of the world's largest cargo carriers, Korean Air has been at the forefront of global vaccine distribution.
Earlier this month, Korean Air signed an agreement with UNICEF for humanitarian and relief shipments of COVID-19 vaccines. Korean Air said it was selected by UNICEF based on strict standards such as a global network, cargo capacity and experience shipping specialized cargo such as pharmaceuticals and medical equipment.
Last December, the airline shipped a COVID-19 vaccine ingredient manufactured in Korea to Amsterdam. Since then, the airline has transported frozen vaccine ingredients under cryogenic temperatures to Europe and Japan several times.
"Korean Air is committed to a safe and swift vaccine distribution worldwide and is actively supporting the global public health initiatives associated with COVID-19," it added.