NIPPON EXPRESS TO SET UP OWN PHARMA STORAGE AT KANSAI
July 21, 2021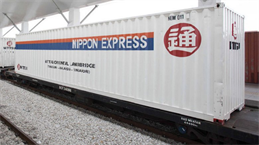 Kansai Airports has announced that Nippon Express Co., Ltd. will install fixed-temperature storage with an area dedicated to pharma products at its facility in Kansai International Airport (KIX), starting operations on July 26.
The airport already has KIX-Medica, temperature-controlled storage for pharma products, and other pharmaceutical storage facilities established by ground handling companies and logistics operators.
In a statement, the airport noted that with Nippon Express, Japan's major international freight forwarder, setting up its own pharma storage within the airport premises ― the first of its kind in Japan, KIX will be able to offer higher-quality pharma cargo service.
Furthermore, as a member of the KIX Pharma Community which was established in August 2017, Nippon Express is in the process of acquiring the CEIV Pharma, a pharmaceutical transport quality certification advocated by the International Air Transport Association (IATA).
"The storage to be installed will also be certified under this program. Kansai Airports will continue to drive quality improvement in the handling of pharmaceutical cargo in joint efforts with its partners," it added.
The NEX-PHARMA Logistics Hub Kansai Airport will have a temperature range of 15°C to 25°C and 2°C to 8°C for pharma area 5°C (refrigerated) and -20°C (frozen) for general cold storage area.