CHINESE PORT CONTAINER VOLUMES UP 15% IN THE FIRST HALF
July 21, 2021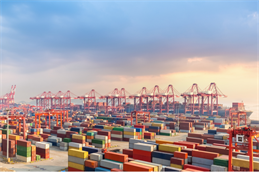 Container volume reported at all Chinese ports in the first half of 2021 was 138.18 million twenty-foot equivalent units (TEUs), up 15% year on year.
Meanwhile, cargo throughput increased by 13.2% to 7.64 billion tonnes.
Container volume growth rate was also up 10.3% year on year in late June at eight main Chinese ports; export container volume increased 12.1% while domestic volume increased 4.6%.
Cargo throughput at key coastal hub ports decreased by 0.9% year over year, while international trade cargo throughput decreased by 0.8%. At key coastal ports.
Meanwhile, the three major Yangtze river ports of Nanjin, Shanghai, and Tianjin increased cargo throughput and container volume by 4.4%and 11.2% respectively, year over year.
In June, cargo throughput at key coastal Chinese ports fell 1.5% compared to the year-ago levels, while container volume grew 5.7% at eight major ports.
Among them, the ports of Tianjin, Qingdao, Shanghai, and Ningbo-Zhoushan all experienced double-digit increases.