K+N OPENS NEW PHARMA & HEALTHCARE CONTROL TOWER IN SINGAPORE
July 21, 2021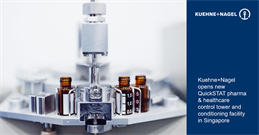 QuickSTAT, a subsidiary of Kuehne+Nagel, has opened a new control tower and conditioning facility in Singapore which is part of K+N's pharma and healthcare strategy to further expand their logistics capabilities to serve customers across the Asia Pacific.
In a statement, K+N said as a leading biomedical science hub in the heart of Asia and its proximity to the rest of the region, Singapore is a strategic location for the new QuickSTAT facility.
QuickSTAT manages global clinical trial logistics for all phases of the product lifecycle from research and drug development through to commercialization.
The company also provides in time and temperature shipping of clinical research samples, biologics, investigational drugs, clinical trial supplies, and vaccines in order to help bring new drugs and medical protocols to market safely and quickly.
The logistics firm said the new conditioning facility located at Kuehne+Nagel's Singapore Logistics Hub - caters to a full suite of healthcare logistics services for all stages of the pharmaceutical product lifecycle.
It also provides superior management of cell and gene therapies, where QuickSTAT's specialists will ensure proper handling, packaging, and storage of the time-and-temperature sensitive products.
The facility also includes a controlled-ambient warehouse and in-transit storage for vaccines, investigational drugs, patient clinical specimens, and active pharmaceutical ingredients (API).
"Kuehne+Nagel is delighted to partner with QuickSTAT to provide seamless end-to-end solutions, adding value to our pharma and healthcare customers in the Asia Pacific. With the ISO-certified and GXP compliant facility that upholds the best practices for storage, conditioning, transportation, routings, and logistics – I am confident that we will consistently deliver product integrity and patient safety," said Jack Liu, Senior Vice President, Air Logistics of Kuehne+Nagel Asia Pacific.
"We are committed to providing innovative and customized logistics as well as transportation solutions to meet the ever-challenging demands of the pharma, biotech, and life science industry, in all regions of the world. By continuing to expand our global footprint to locations of strategic importance, we are able to provide local and global support for Kuehne+Nagel and QuickSTAT customers," Cyril Leger, executive vice president of QuickSTAT, added.