Leading companies in the cargo, logistics and supply chain sectors took home 48 different awards at the 2019 Asian Freight, Logistics and Supply Chain (AFLAS) Awards at the Asia Society Hong Kong Center on June 17.
The awards, hosted and organized annually by Asia Cargo News, recognize leading service providers including air and shipping lines; airports and seaports; and logistics, 3PLs and other associated industry professionals. The nomination and voting process allowed the more than 15,000 readers of Asia Cargo News and e-news subscribers to first determine the leading companies in the market, and then determine the winners, making the results the opinion of service users rather than a panel of judges.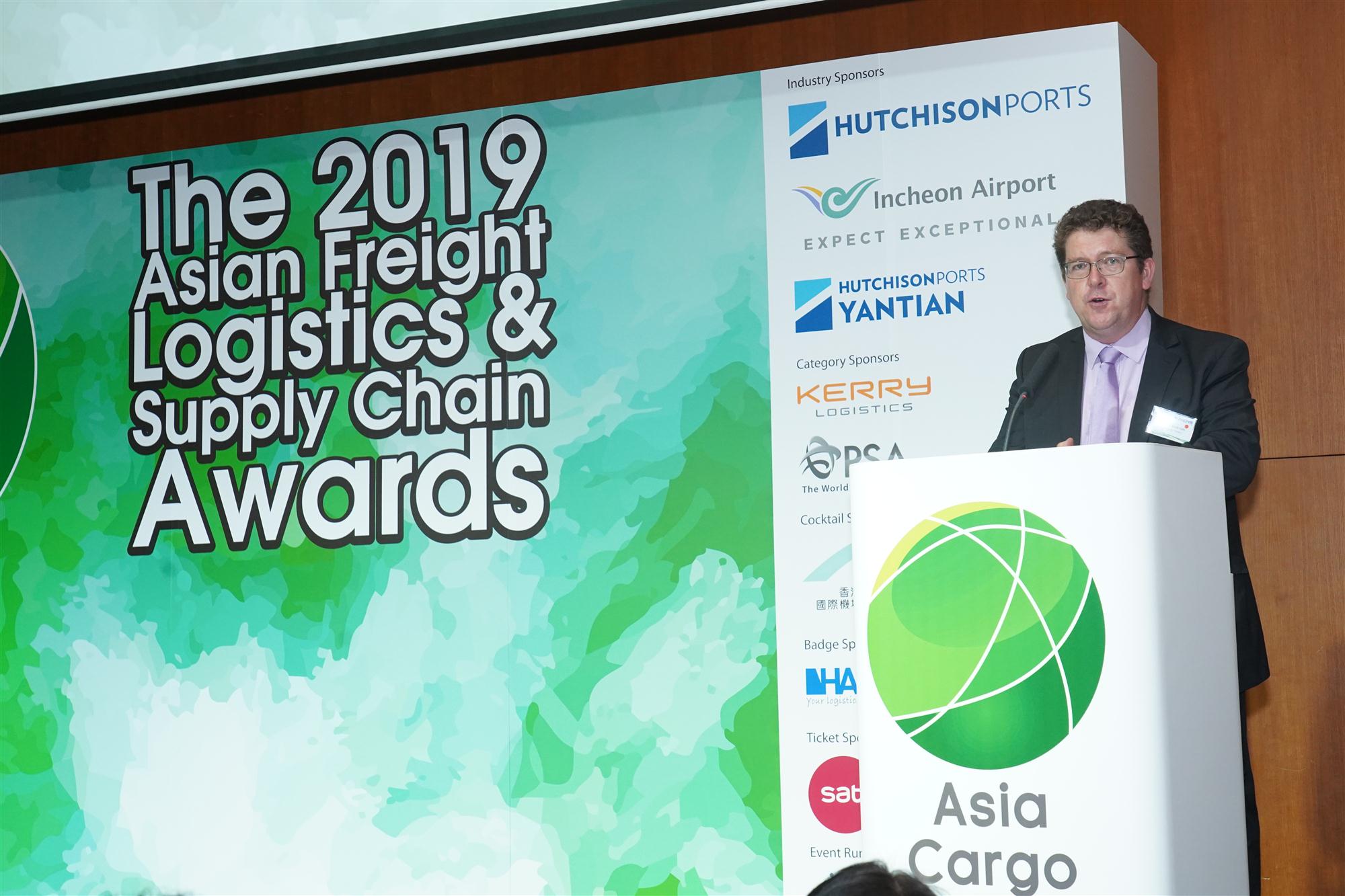 The nomination criteria was laid down by Asia Cargo News and following a technical evaluation, the top eight firms in each category appeared on the, final ballot. The top three firms in each category made up the final shortlist, with the winners collecting their awards from guest presenters from some of the biggest players in the Asian freight and logistics industry.
"A record number of shippers and other customers have voted for the 2019 AFLAS winners, making these awards a true reflection of industry expertise," said Asia Cargo News publisher Darren Barton. "Competition was fierce, and I would like to congratulate all the winners tonight."
"Asia is home to many of the worlds leader service providers, and we're pleased to be able to honour them this evening, along with important partners in Europe and the Americas," said Asia Cargo News managing editor Gregory Glass. "Asia is an exciting place to be in the freight, logistics and supply chain industry."
Written by leading transport and cargo industry journalists, Asia Cargo News is a vital source of intelligence for cargo, logistics and supply chain companies located in and doing business in Asia. The newspaper includes a range of in-depth features, news and analysis designed to meet the information needs of industry decision-makers.
The 2020 AFLAS Awards will be held in Shanghai.
2019 AFLAS Award Winners
BEST AIRPORT AWARDS
Best Airport – Asia (over 1m tonnes)
Incheon International Airport
Best Airport – Asia (under 1m tonnes)
Macau International Airport
Best Airport – Europe
Amsterdam Airport Schiphol
Best Airport - Middle East
Dubai International Airport
Best Airport - North America
Ted Stevens Anchorage International Airport
Best Airport – Oceania
Sydney Airport
BEST AIR CARGO TERMINAL AWARDS
Best Air Cargo Terminal Operator - Asia
SATS
BEST AIR CARGO CARRIER AWARDS
Best Air Cargo Carrier – Asia
EVA Air Cargo
Best Air Cargo Carrier – Europe
Air France KLM Martinair Cargo
Best Air Cargo Carrier - Middle East
Emirates SkyCargo
Best Air Cargo Carrier - North America
United Cargo
Best Air Cargo Carrier - Oceania
Air New Zealand Cargo
Best Low-Cost Carrier
AirAsia
Best All-Cargo Airline
AirBridgeCargo
BEST LOGISTICS SERVICE PROVIDER AWARDS
Best Logistics Service Provider – Air
Kerry Logistics
Best Logistics Service Provide – Rail
Canadian Pacific Railways
Best Logistics Service Provider – Road
DB Schenker
Best Logistics Service Provider – Sea
Bolloré Logistics
Best Logistics Service Provider – Express
DHL
Best Logistics Service Provider - Project Cargo
Sinotrans
BEST SEAPORT AWARDS
Best Seaport – Asia
Port of Singapore
Best Seaport – Europe
HAROPA, Port of Le Havre
Best Seaport - Middle East
Jebel Ali Port
Best Seaport - North America East & Gulf
Port Houston
Best Seaport - North America West Coast
Port of Long Beach
Best Seaport – Oceania
Ports of Auckland
BEST SHIPPING LINE AWARDS
Best Shipping Line - Asia-Africa
MSC
Best Shipping Line - Asia-Europe
Evergreen Line
Best Shipping Line - Intra-Asia
Yang Ming
Best Shipping Line - Trans-Pacific
APL
Best Shipping Line - Project Cargo
AAL
BEST AIRPORT AWARDS
Best Airport – Asia (over 1m tonnes)
Incheon International Airport
Best Airport – Asia (under 1m tonnes)
Macau International Airport
Best Airport – Europe
Amsterdam Airport Schiphol
Best Airport - Middle East
Dubai International Airport
Best Airport - North America
Ted Stevens Anchorage International Airport
Best Airport – Oceania
Sydney Airport
BEST CONTAINER TERMINAL AWARDS
Best Container Terminal - Asia (over 4m TEUs)
PSA Singapore
Best Container Terminal - Asia (under 4m TEUs)
Colombo International Container Terminals
Best Container Terminal – Europe
DP World London Gateway
BEST EDUCATIONAL COURSE PROVIDER AWARD
Best Educational Course Provider
RMIT University – School of Business IT and Logistics
GREEN AWARDS
Best Green Airline
Singapore Airlines
Best Green Shipping Line
Hamburg Süd
Best Green Seaport
Port of Singapore
Best Green Airport
Singapore Changi Airport
Best Green Logistics Operator
Bolloré Logistics
Best Green Container Terminal Operator
Yantian International Container Terminals
Best Green Air Cargo Terminal Operator
HACTL
GLOBAL AWARDS
Best Logistics Service Provider – 3PL
Kerry Logistics
Best Global Shipping Line
CMA CGM
Best Global Container Terminal Operating Company
Hutchison Ports
Best Global Airport
Hong Kong International Airport
Best Global Seaport
Port of Hamburg