ANA, JAPAN AIRLINES LAUNCHES JOINT REPORT ON SAF
October 8, 2021
All Nippon Airways (ANA) and Japan Airlines (JAL), have published a joint report on the promotion and viability of Sustainable Aviation Fuels (SAF), which are expected to become central to the airlines' shared goal of achieving carbon neutrality in air transportation by 2050.
In the report, "Toward Virtually Zero CO2 Emissions from Air Transport in 2050," the companies have jointly assessed the benefits and features of SAF and the amount of SAF that would be required to support full adoption by the aviation industry.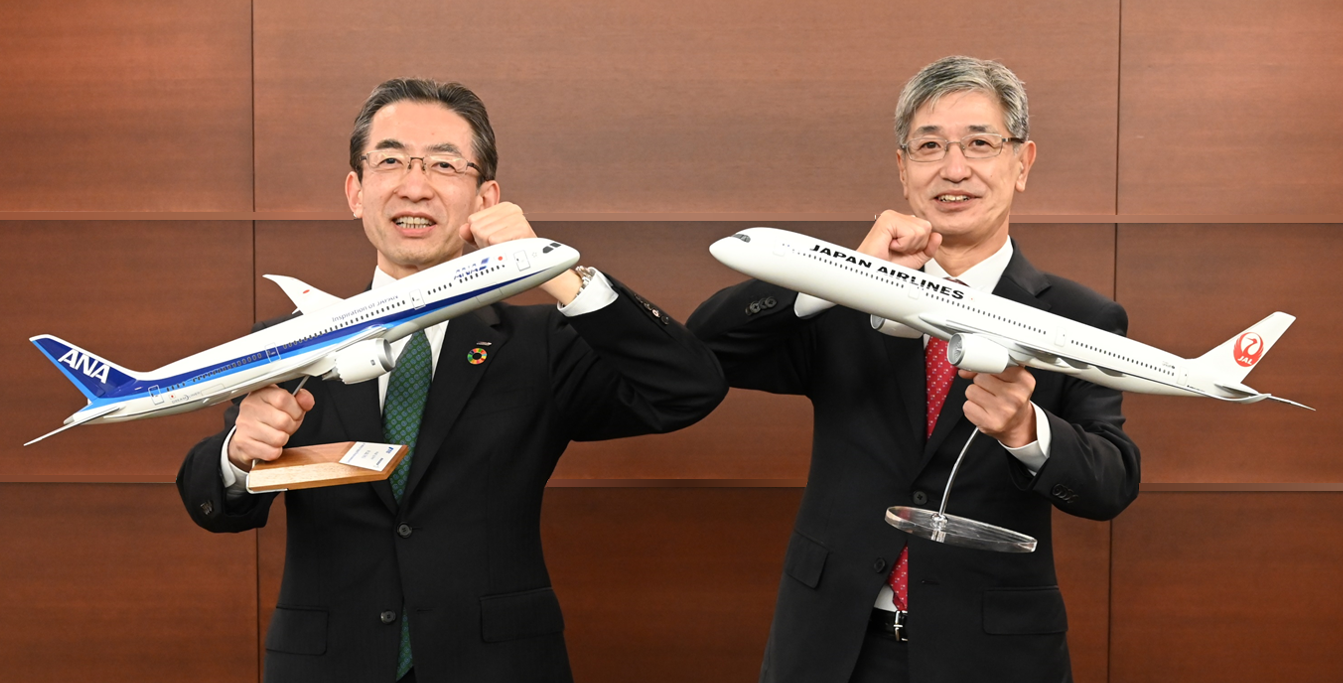 The report also details the current logistical situation regarding the production, distribution, and utilization of this innovative new fuel.
As part of the airlines' joint sustainability campaign, the study provided comprehensive analysis of the main issues facing the Japanese aviation industry as it moves towards reduced carbon emissions.
In a statement, the airlines added that in addition to providing a roadmap to sustainability for both Japanese airlines, the report provides information on the positive impact that this transition would have on other countries and future generations.
"Throughout their lifecycle, SAFs such as biomass can reduce CO2 emissions by approximately 80% compared to conventional fuels. This makes them essential for achieving full carbon neutrality by 2050 for airline industry operations," one findings of the report said, adding that the full compatibility of SAFs with existing fueling equipment at airports and other infrastructure will help ease the transition towards this sustainable energy source.
lt added that the current global production of SAF is less than 0.03% against the demand, and mass production and utilization is urgently needed.
The Japanese carriers noted that in order to achieve their ambitious environmental goals by 2050, airlines must accelerate the technological development, production, and utilization of SAF through heightened cooperation and collaboration with industries that are connected to the aviation sector, as well as targeting SAF use of at least 10% by 2030.
"Based on the forecasted growth rate of air transportation, the amount of SAF required in order to achieve net zero CO2 emissions by 2050 for domestic and international flights by Japanese airlines and for foreign airlines operating in Japan is estimated to be 2,300 million kL," it added.
The airlines also noted that the production and commercialization of SAF in Asia is still in its early stages compared to Europe and the US. However, the SAF market in Asia is expected to reach approximately 22 trillion yen as air transportation demand is expected to grow significantly in the future.
During the development of the joint study, ANA and JAL renewed their commitment to achieving their shared environmental goals.
The airlines have both joined the World Economic Forum's "Clean Skies for Tomorrow Coalition" and co-signed the 2030 Ambition Statement, pledging to cooperate in increasing the share of SAF in the global aviation industry to 10% by 2030.