CARGO CITED AS A "LIFELINE" BY AIR NIUGINI, SOLOMON AIRLINES
October 13, 2021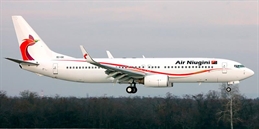 Air Niugini, the national airline of Papua New Guinea, has been moving a considerable amount of cargo to destinations in Australia and Asia. 
Its CEO Bruce Alabaster, speaking at CAPA Live from Puerto Rico October 2021, said the carrier is moving a "surprising amount" of freight "out of Brisbane, up into Hong Kong and Asia."
He noted that following the resumption of Cairns services, the airline has "picked up eight and a half tonnes of live seafood and live fish to go up to Asia."
Cargo service: a lifeline
Meanwhile, during the same event, Solomon Airlines said its Brisbane-Honiara cargo service has been a "lifeline" for the carrier.
The national airline of the Solomon Islands said in the recent CAPA Live that freight has kept the carrier moving amid ongoing disruptions in passenger operations.
"[Our] weekly cargo service from Brisbane to Honiara has "been a lifeline as it has kept the Solomon Islands connected with the rest of the world," said 
Solomon Airlines CEO Brett Gebers.
He added that the carrier has sought charter services across the world, as well as charter services, noting "that's kept us going."