SAL SIGNS CARGO GROUND HANDLING AGREEMENT WITH QATAR AIRWAYS CARGO
October 14, 2021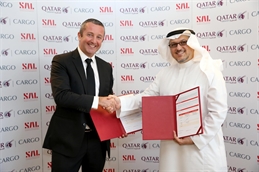 SAL Saudi Logistics Services (SAL) has signed a cargo ground handling agreement with Qatar Airways Cargo, to provide comprehensive ground logistics support at Saudi Arabia's main airports, including Riyadh, Jeddah, Dammam, and Medina. 
In a statement, the cargo handler said this agreement is in line with one of the company's strategic growth initiatives of increasing the number of partnerships with leading regional and global airlines that have high cargo shipping capacities.
"This agreement will enhance logistical operations between Saudi Arabia and Qatar. Moreover, given Qatar Airways' global reach and substantial shipping capacity, we look forward to providing it with cargo ground handling services to the highest international standards. This new partnership reflects our growing network of international and domestic relationships across airlines, regulators, government agencies, and global industry organizations," said Hesham Alhussayeb, CEO of SAL. 

He then noted the importance of partnerships, as he cited the efforts of SAL to help move life-saving freight at the height of the pandemic. 
"Over the year and a half, SAL has responded to the COVID-19 pandemic by boosting our operational efficiencies to meet the unprecedented demands of handling a wide variety of emergency, medical, and other life essential goods to those who need them most. This journey reinforced our belief in the power of partnerships and, as such, we have signed several cooperation agreements to expand our ground handling and logistics services even further," he said.
Meanwhile, Guillaume Halleux, Chief Officer Cargo at Qatar Airways, said that the agreement with SAL will allow the carrier to offer "fast and efficient handling for all types of cargo including cool chain cargo at Saudi Arabia's main airports."
SAL provides cargo chain support for multiple airlines operating into and out of Saudi Arabia's airports. It is also broadening its services within airports and will extend its logistics network to increase connectivity between land, sea and air transportation hubs, economic zones, and major population centres, in line with the Vision 2030 objective of transforming the Kingdom into a global logistics hub.