DHL EXPRESS ADDS NEW CARGO AIRLINE DHL AIR AUSTRIA
November 9, 2021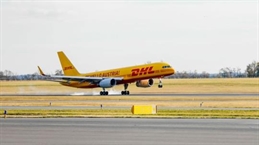 DHL Express recently announced the launch of its newly established cargo airline DHL Air Austria, which is now headquartered at Vienna Airport and it witnessed the inauguration flight of the first registered Boeing 757 under Austrian flag.
The new Austria based airline will eventually operate with a fleet of 18 B757 freighters.
"With this important step, we are making our air freight network in Europe more flexible and stable, while at the same time continuing to meet our customers' high demand for cross-border express deliveries and providing them with sufficient capacity," commented Ralf Schweighöfer, CEO of DHL Express Austria. 
In a statement, DHL noted that in an increasingly globalized world, the importance of exports and imports is growing rapidly, and this trend will continue even after the COVID19 pandemic — adding that the global networking of domestic companies is "progressively becoming a decisive competitive factor."
It said by ensuring a resilient and flexible air transport network, DHL Express is contributing to the economic recovery of the European economy after the COVID19 pandemic.
"The new airline DHL Air Austria is an important boost for our aviation industry and the domestic economy. The location decision for Austria is a strong signal for our country. The new headquarter at Vienna International Airport will also create an important value for the region," said Dr. Magnus Brunner, State Secretary for Aviation.
The new cargo airline DHL Air Austria will handle European cargo flights in future with eighteen Boeing 757 aircraft and around 176 pilots. 
DHL said after examining several options in various European countries, Austria was chosen as the "optimal location" for the new cargo airline.
After initial talks with the Austrian authorities in February of this year, the AOC (Air Operator Certificate) required to operate the airline and consequently the OL (Operating License) were issued on October 18, 2021.
DHL said currently, three of the total of eighteen Boeings are already registered in Austria. The transfer of another fifteen Boeing 757 aircraft to DHL Air Austria is expected to be completed in the first quarter of 2022.