CATHAY PACIFIC REPORTS ROBUST CARGO NUMBERS IN OCTOBER — SAYS H2 TO BE BETTER THAN H1
November 19, 2021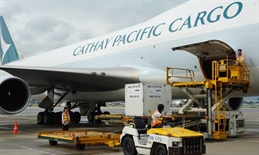 Cathay Pacific saw its cargo business continue its strong performance in October with its 'preighter' services boosting its operations amid continued capacity reductions.
According to its latest results, the airline carried 136,949 tonnes of cargo last month, an increase of 19.8% compared to October 2020, but a 25.2% decrease compared with the same period in 2019.
The month's cargo revenue tonne kilometres (RFTKs) rose 21% year-on-year, but were down 14.9% compared to October 2019, although the carrier noted that cargo load factor increased by 4 percentage points to 82.9%.
Capacity, measured in available cargo tonne kilometres (AFTKs), was also up by 15.2% year-on-year, but was down 30.3% versus October 2019.
"Air cargo demand continued to strengthen in October. We maintained an optimised freighter schedule to meet this demand, supplemented by capacity provided by our scheduled passenger services," said Ronald Lam, Cathay Pacific's chief customer and commercial officer.
"We also operated 963 pairs of cargo-only passenger flights, including 78 sectors that were operated by our converted "preighters" carrying cargo in the cabins – both record-high numbers," Lam added, noting that overall, the Hong Kong-based airline operated approximately 70% of our pre-pandemic cargo capacity when compared to October 2019.
The carrier's average load factor also increased to nearly 83%.
In the first 10 months of 2021, Cathay Pacific said the tonnage decreased by 2.9% against a 14.7% drop in capacity and a 4.3% decrease in RFTKs, as compared to the same period for 2020.
"Our home market, Hong Kong, continued its strong performance, and other markets around our network were similarly encouraging. Southeast Asia in particular performed well with robust exports of consumer products and industrial parts. Return traffic from the Americas and Europe also gathered momentum," Lam added.
Second half outlook
Cathay Pacific also painted an upbeat forecast for cargo for the second half.
"The second half of the year is typically our peak cargo period," Lam said.
"The exceptionally strong cargo season that we are experiencing so far, together with our continued focus on effective cash and cost management, have led to a positive impact on our operating cash burn. This is to the extent that we have been able to achieve close to operating cash breakeven for the four-month period from July to October 2021," he added.
Meanwhile, Cathay Pacific noted that its October 2021 passenger numbers continued to reflect the "airline's substantial capacity reductions" in response to significantly reduced demand as well as travel restrictions and quarantine requirements in place in Hong Kong and other markets amid the ongoing global COVID-19 pandemic.
The carrier said it transported a total of 76,430 passengers last month, an increase of 98.3% compared to October 2020, but a 97.2% decrease compared to the pre-pandemic level in October 2019.