CANADIAN PACIFIC REOPENS B.C. RAIL CORRIDOR
November 22, 2021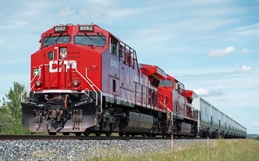 Canadian Pacific has announced that it would reopen its railway between Kamloops, B.C. and Vancouver by mid-day Tuesday, November 23 as it noted "important work ahead" to rebalance the supply chain.
In a statement, it said crews have worked around the clock after the November 14 atmospheric river rain storm in British Columbia, where nearly 200 millimetres of rain fell over two days in some locations.
Thirty locations across CP's Thompson and Cascade subdivisions were damaged with 20 resulting in significant loss of infrastructure.
"I am extremely proud of the CP team. Their extraordinary dedication, grit and perseverance in the face of extremely challenging conditions are the reasons we are able to restore our vital rail network in only eight days," said Keith Creel, CP President and CEO. "The following 10 days will be critical. As we move from response to recovery to full service resumption, our focus will be on working with customers to get the supply chain back in sync."
CP noted that as it resumes operations and moves from restoration to recovery, it will closely coordinate with customers and terminals to clear the backlogs as quickly and efficiently as possible.
The Canadian rail operator noted that while the railroad may have reopened, there remains a difficult road ahead for B.C. residents and businesses impacted by this event including the delivery of critical materials, equipment, food and fuel to affected sectors.
"The force and impact of this event were extensive and evolved from hour to hour," added Creel. "CP worked in lock-step in partnership with the B.C. Ministry of Transportation and Infrastructure, Transport Canada and contractors to identify damage and priority locations to get highways and our network reopened."
"We are committed to continuing to support the recovery with our experience, expertise and resources as we do our part to resume critical transportation services for Canadians and the North American economy," Creel added.