CP-KCS MERGER MOVES FORWARD AFTER STOCKHOLDERS VOTE
December 10, 2021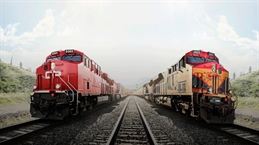 Kansas City Southern (KCS) announced that the company's stockholders have voted to approve the previously announced combination with Canadian Pacific Railway Limited (CP) at its virtual special meeting of stockholders held recently.
In a brief statement, KCS said of the 64.5 million shares voting at the special meeting, approximately 99.6% were cast in favor of the adoption of the proposed merger agreement.
The transaction is expected to close on Tuesday, December 14.
"KCS stockholders will receive US$90 in cash and 2.884 CP shares for each KCS common share held and US$37.50 in cash for each KCS preferred share held," KCS said.
It added that immediately upon close, ownership of KCS will be held in a voting trust pending the Surface Transportation Board's review and approval of CP's proposed control of KCS, which is expected to occur in the fourth quarter of 2022.
On December 8, CP's stockholders voted to approve the issuance of the CP common shares to KCS stockholders in connection with the proposed merger.
CP welcomes KCS vote
Meanwhile, CP welcomed the results of the KCS vote.
"This week, shareholders of both CP and KCS overwhelmingly supported this transformative proposal to create the first U.S.-Mexico-Canada rail network," said Keith Creel, CP President and Chief Executive Officer. "With strong shareholder support, we are excited to complete the steps required to close the CP-KCS transaction into the voting trust, a critical milestone in the journey to make Canadian Pacific Kansas City a reality."
As previously announced on September 15 this year, CP has agreed to acquire KCS in a stock and cash transaction representing an enterprise value of approximately US$31 billion, which includes the assumption of US$3.8 billion of outstanding KCS debt.
CP said its control of KCS remains subject to the approval of the STB. 
On November 23, the STB formally accepted the CP-KCS control application and issued a procedural schedule.