SUEZ CANAL REVENUES HIT ALL-TIME RECORD IN 2021
January 3, 2022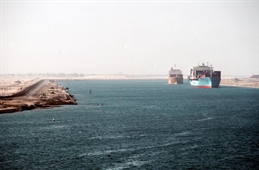 Suez Canal reported that its annual revenues reached US$6.3 billion in 2021, the highest in the Egyptian waterway's history despite the Covid-19 pandemic and disruptions brought by the blockage by cargo ship EVER GIVEN in March last year. 
Last year's revenues rose 12.8% to US$6.3 billion, compared to 2020, when the canal achieved US$5.6 billion, according to Admiral Ossama Rabei, head of the Suez Canal Authority.
The Suez Canal accounts for roughly 10% of the global maritime trade, including 7% of the world's oils — which connects the Red Sea and the Mediterranean.
In a statement, Rabei said 20,649 vessels transited through the Suez Canal in 2021, also showing an increase of 10% compared to the 18,830 vessels in 2020.
Some 1.27 billion tons of cargo were also shipped through the vital waterway earning the massive transit fees recorded for the year.
The all-time high revenue came as the shipping industry reels from the ongoing impact of the Covid-19 pandemic on shipping — exacerbated by port congestions and other supply chain disruptions. 
The canal, one of the world's most important waterways, was blocked for at least six days in March when massive container ship, EVER GIVEN, bound for Rotterdam from China, ran aground in the single-lane stretch of the canal.
The EVER GIVEN vessel reached the Dutch hub of Rotterdam four months after the disruption as Egyptian authorities and the owners of the ship reached a compensation deal ending months-long of compensation dispute — although the terms and amount of the deal were not revealed.