ETHIOPIAN CARGO PUSHES DIGITALIZATION WITH BOOKING PORTAL
January 12, 2022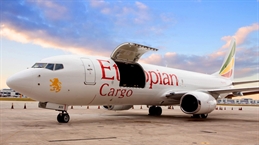 Ethiopian Cargo & Logistics Services has expanded its digital offering with the addition of an online cargo reservation platform.
Customers can use the new site to verify flight schedules, space availability, freight loadability, and make real-time bookings.
In addition, the company also introduced a smartphone app that allows users to check flight schedules, send inquiries, receive notifications when shipments are ready, book charter flights, and track shipments in real time.
"We are committed to start walking the long walk of taking out paper from entire air cargo process by digitalizing the logistics value chain," said Ethiopian Airlines chief executive Tewolde GebreMariam.
"Taking out paper from logistics value chain is not only convenient and hassle free service for customers but also it delivers more efficient operational excellence and achieves long term sustainability goals."
The Ethiopian Airlines chief noted that an online booking platform will be crucial in empowering direct cargo customers and forwarders with reliable access to our cargo capacity inventory.
The news came as the cargo carrier announced the boost to its bottomline from it cargo operations.