PORT OF PRINCE RUPERT SAW CARGO DECLINE IN 2021 BUT POISED FOR GROWTH THIS YEAR
January 19, 2022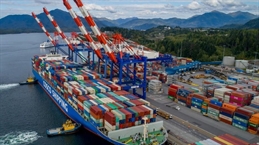 The Prince Rupert Port Authority (PRPA) saw its annual cargo volumes drop last year which it attributed to intermodal supply chain disruptions particularly in the West Coast.
The port located in British Columbia said volumes reach over 25 million tonnes in 2021, down 23% year-over-year in total volume.
Nonetheless, it noted that the Port of Prince Rupert played a vital role in ensuring the movement of essential goods on North America's West Coast and provided important economic stability for the region through a tumultuous year.

Canada's third busiest seaport sounded optimistic however with the prospects for 2022.
"With global supply chains experiencing unprecedented challenges and volatility, the Port of Prince Rupert remains proud to have been a leader in efficiency and fluidity on the West Coast and we hope to continue to offer an uncongested port of call for trans-Pacific trade as a key strategic gateway for Canada," said Shaun Stevenson, president and CEO, Prince Rupert Port Authority.
"However, the decline in volumes reflects that our terminals and partners are in an extremely dynamic and competitive market, and emphasizes the importance of our work to position the Port of Prince Rupert for targetted growth in capacity and further diversification of our cargoes."
Port of Prince Rupert noted that according to its newly-launched Port of Prince Rupert Gateway Council, in 2020 alone, Gateway operations handled approximately US$60 billion in trade value.
New service calls cited
"This past year, Prince Rupert leveraged its natural advantages to secure its competitive position with new service calls in its intermodal business through the introduction of an express COSCO pendulum shipping service between DP World-Prince Rupert's Fairview Container Terminal and Asia, as well as a new trans-Pacific service offered by MSC," it said in the statement.

It noted that through a partnership between COSCO, DP World-Prince Rupert and CN, two new expedited rail services between Prince Rupert and Chicago, and Prince Rupert and Toronto, now offer a means to transport cargo at record pace – a proposition that it said is "all the more desirable" as congestion and delays continue at other ports.   
The Port's 25,014,134 tonnes in total volume included a record year at AltaGas' Ridley Island Propane Export Terminal with 1,493,876 tonnes handled and the addition of Pembina's Watson Island LPG Bulk Terminal coming online with 370,525 tonnes exported.
Westview Pellet Terminal, owned and operated by Pinnacle Renewable Energy, now a subsidiary of Drax Group, had a strong year, exporting 1,442,851 tonnes of wood pellets. DP World-Prince Rupert's Fairview Container Terminal's volume declined slightly to 1,054,836 TEUs handled through the year.
PRPA said "the shortfall in total volume can largely be attributed to intermodal supply chain disruptions, industry-specific issues,  and a competitive West Coast market."
"Given the year that we've all experienced in the province of BC with the impacts of extreme weather events, supply chain congestion, and economic uncertainty as a result of the COVID-19 pandemic and its effects, 2021 served to underscore the necessity for additional investment and diversification in the Prince Rupert Gateway to offset trade pattern volatility and shore up the economy against any future supply chain disruptions on North America's West Coast," Stevenson said, adding that the port continue to advance the development of critical infrastructure and expansion projects at the Port of Prince Rupert.
"By expanding, we hope to continue be a key economic driver in Northern BC for the benefit of all and will be better positioned to offer Canadian industries supply chain security as the global economy rebounds from the effects of the pandemic," the port chief added.