SATS TO ACQUIRE WFS FOR €2.25B BECOMING THE WORLD'S LARGEST AIR CARGO HANDLER
September 28, 2022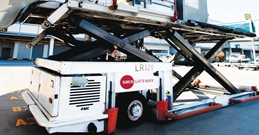 SATS Ltd. (SATS) has announced its plan to acquire Worldwide Flight Services (WFS) in a deal that would create the world's largest air cargo handler.
The transaction is valued at an enterprise value of €2.25 billion (US$2.18 billion).
The Singapore-based ground handling and catering provider said the transaction will bring together WFS, the world's largest air cargo handler with leadership positions in the Americas and Europe, and SATS, the leading provider of aviation services in Asia.
"SATS will acquire WFS from an affiliate of investment firm Cerberus Capital Management, L.P. (Cerberus) for a cash consideration of EUR 1.187B (SGD 1.639B)," the announcement said, adding that the Paris-based WFS generated revenue of EUR 1.722B (SGD 2.597B) and EBITDA of EUR 232M (SGD 350M) for the 12 months ended March 31, 2022.
The enterprise value for the transaction implies an EV/EBITDA multiple of 9.7x.
Kerry Mok, president and chief executive officer of SATS, noted that the proposed acquisition of WFS is a "transformational opportunity" for SATS, adding that the two companies will be operating in the world's busiest airports. 
"Our customers are telling us that they want seamless support across regions, in a way that simplifies and strengthens their own operations. Combining with WFS will let us meet those needs," Mok added.
"It is a hugely powerful combination for growth, as well as delivering greater business resilience."
SATS said the acquisition will enable SATS to better serve air cargo customers in strategic hubs in Asia, Europe and the US, as well as in complementary new growth markets including Latin America and Africa.
The combined network covers trade routes responsible for more than 50% of global air cargo volume. 
WFS operates in five of the top 10 cargo airports in North America and EMEA, including Los Angeles, Chicago, Miami, Frankfurt and Paris. Meanwhile, SATS is already present in four of the top 10 cargo airports in Asia, including Hong Kong, Taipei, Singapore and Beijing.
Supporting e-commerce, specialised cargo
"Led by SATS, the combined group will have a greater ability to capitalise on growth across the cargo supply chain and benefit from stronger demand for eCommerce and specialised cargo handling for items such as pharmaceuticals and perishables," the announcement said.
"It will also add scale to SATS' sustainability and ESG efforts, including decarbonisation and societal outreach as part of its purpose to feed and connect communities."
WFS to become SATS subsidiary
WFS will become a wholly owned subsidiary of SATS after the proposed acquisition and will continue to be led by chief executive officer Craig Smyth.
The WFS chief noted the "similar values" shared between the two companies.
"As we look to our next stage of growth, this combination will deliver exciting benefits for our customers and our people. We have great respect for SATS and share similar values, and look forward to working with their senior team in building the pre-eminent aviation services platform," Smyth said.
The proposed transaction is expected to complete by March 2023 subject to conditions precedent (including requisite shareholder and regulatory approvals).
SATS said Temasek has already provided an irrevocable undertaking to vote in favour of the transaction.
Meanwhile, Euleen Goh, chairman of SATS, said the WFS acquisition has been carefully selected to fit SATS' expansion strategy.
"The board is pleased to welcome Craig Smyth and his management team to augment the SATS leadership team led by Kerry as Group President and CEO, to build a world-leading cargo handling business," Goh said.

Through initiatives that include cross-selling, network expansion and deeper eCommerce cargo partnerships, the combined SATS-WFS entity is expected to capture "run-rate EBITDA" synergies over of SGD 100 million (US$69.47 million).