MULTI-SITE CENTRAL IMAGE PROCESSING SOLUTION FOR DHL EXPRESS AUSTRALIA
January 31, 2023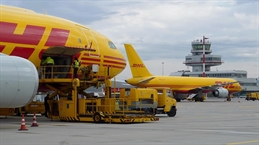 Smiths Detection, a threat detection and security screening technology firm, announced that it had deployed a fully operational multi-site central image processing and management solution for DHL Express Australia.
It said that the solution connects existing Smiths Detection HI-SCAN 10080 EDX-2is high-speed automatic explosive detection scanners at the sites in Sydney, Melbourne and Brisbane into one intelligent network that allows all X-ray images to be analysed at a single central location and provides consolidated data analytics and insights.
"The intelligent centralised screening solution will enable DHL Express Australia to optimise staffing rostering, as well as significantly increase the utilisation of its security operators while reducing overall operational expenditure," it added.
Smiths Detection said the technology would be used for the safe and efficient screening of international air freight, in line with both TSA and Australian regulations.
"We are delighted to have installed a screening and management platform for DHL Australia. Remote screening and the use of a central management system provide the user with operational data from across the screening process, generating invaluable insights while making it easier to screen for threats and monitor overall performance," said Ajay Sankaran, managing director of Australia & Sales Director South Asia, Smiths Detection.
Sankaran noted that the platform could also be easily expanded to include more security screening equipment.
Smiths Detection said in the announcement that the initiative has "significantly contributed" to the improvement of DHL air cargo examination in all key areas of measurement: screener utilisation, which has resulted in a greater than 40% reduction in X-ray operator hours; decision times and compliance driven by collocation in a purpose-designed screening room; and reduction in insider threat risk due to the separation of the screener from the physical freight.
"These improvements have been facilitated by the vastly enhanced visibility associated with the centralisation of management."