EXPANDED GLOBAL LOGISTICS NETWORK BOOSTS CAINIAO'S 2022 PERFORMANCE
February 24, 2023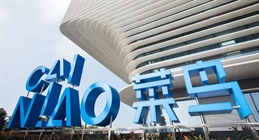 Cainiao Network (Cainiao), the logistics arm of Alibaba Group Holding Limited, attributed the growth in its financial results in 2022 to its focus on expanding its global logistics infrastructure.
In the quarter ended December 31, 2022, revenue from Cainiao, before inter-segment elimination, grew 17% year-over-year to RMB23,023 million (US$3.338  billion).
It added that revenue from Cainiao, after inter-segment elimination, grew 27% year-over-year to RMB16,553 million (US$2.400 billion), primarily contributed by the increase in revenue from domestic consumer logistics services as a result of service model upgrade since late 2021 to enhance customer experience, and international fulfillment solution services. 
"Growth can be attributed to Cainiao's continued commitment towards the expanding and strengthening of its global smart logistics network, spanning international express, warehousing and supply chain, last mile logistics and other core capabilities," Cainiao said in a statement.
Global logistics infrastructure expansion
Cainiao noted that it had continued its emphasis on the development of global logistics infrastructure with the expansion of overseas distribution centers to 15, as well as the establishment of overseas warehouses, self-operated distribution and pick-up facilities.  
In Latin America, it said that it had deepened its local logistics network by diversifying capabilities and resources in areas such as eHubs, line-haul, sorting centers and last-mile network, among others.
Currently, Cainiao operates eight China-Brazil chartered flights per week, launched its distribution center in Sau Paolo and runs a local delivery network that covers a majority of Brazil.  
In Europe, Cainiao has launched its distribution center in Poland and embarked on logistics infrastructure development in Northeast Europe.
Most recently, Cainiao has partnered with DHL to jointly invest in the establishment of the largest last mile logistics network in Poland.   
To deliver superior service, Cainiao said it has identified doorstep delivery as one of the key initiatives to improve customer experience. It noted thatDuring the 11.11 Global Shopping Festival period, peak daily door-step deliveries exceeded 18 million, including those delivered directly to door or through Cainiao Post.
This quarter, Cainiao said it had integrated its warehousing and distribution to improve supply chain efficiencies for Alibaba's e-commerce business and its broader merchant base. 
Meanwhile, Cainiao said it is also embedding its sustainability initiatives into the core business capabilities.