QATAR AIRWAYS CARGO, WFS EXPAND PARTNERSHIP WITH JFK DEAL
March 22, 2023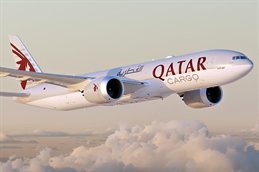 Qatar Airways Cargo is extending its global partnership with Worldwide Flight Services (WFS) with the awarding of a new three-year cargo and freighter ramp handling contract at New York's John F. Kennedy International Airport.
Under the agreement, WFS is initially providing cargo services in support of 11 Qatar Airways' Boeing 777 passenger services a week and three B-777 freighter flights, handling a projected 45 million kilos per year.
In a statement, WFS noted that destinations served by the airline ex-New York JFK include Doha, Mexico City, and Liege in Belgium. 
"WFS is now responsible for managing all aspects of the cargo handling process for Qatar Airways Cargo at New York JFK, including cargo acceptance, screening, build-up and breakdown of pallets and containers at its dedicated Building 75 facility," it said in a statement.
It added that WFS is also providing full freighter handling and ramp parking for Qatar's B777F at its Building 76 operation at the airport.   
"This is a very significant new contract for WFS with one of our leading global clients. In North America alone, Qatar Airways Cargo is now partnering with WFS in Boston, Dallas, Houston, Philadelphia, Pittsburgh, and Seattle, as well as in New York," said Mike Simpson, executive vice president of Americas.
"As the largest cargo handler at JFK, Qatar Airways Cargo recognises the value we will bring to their operational efficiency and customer experience through the significant expertise and resources we can leverage. Qatar Airways' customers will enjoy a priority service through the dedicated WFS warehouse facility we are providing for the airline," he added. 
WFS noted that it is continually striving to improve its cargo handling operations and is in the process of obtaining GDP (Good Distribution Practice) certification for Building 75 to support the handling of pharma and other special products.
Intuitive tools have also been adopted by WFS for management and frontline staff to manage and track its cargo operation, including visual dashboards, across all JFK facilities.
WFS said these tools presently monitor the progress of import cargo, with an export version now in development.
A new dock management system rolled out at WFS' buildings at JFK is also enabling trucking companies to forward book appointments for the delivery and retrieval of cargo, resulting in significant resource planning and productivity gains for all stakeholders.
Currently, WFS operates eight cargo and mail facilities at New York JFK, serving 42 airline customers and handling over 560 million kilos annually.
WFS noted that in 2024, it would also commence a 15-year lease on a new, state-of-the-art 346,000 square feet cargo terminal in the first phase of the Port Authority of New York and New Jersey's comprehensive Vision Plan to enhance the international reputation of JFK.
The new facility will have a throughput capacity of over 300 million kilos a year.