IMO COUNCIL VOTES PANAMA'S ARSENIO VELASCO AS NEXT SECRETARY-GENERAL
July 25, 2023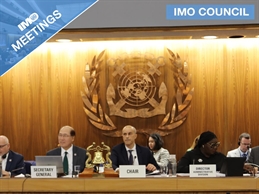 The International Maritime Organisation (IMO) Council has appointed Arsenio Antonio Dominguez Velasco (Republic of Panama) as the next IMO Secretary-General for an initial four-year term from January 1, 2024, following a vote.
The Council made the announcement following a meeting for its 129th session on July 17-21, 2023.
IMO earlier announced it is tapping Velasco to take over the helm of the organisation from current IMO Secretary-General Kitack Lim (South Korea), whose term would end on December 31, 2023.
It added that the decision of the Council is subject to approval by the IMO Assembly, which meets for its 33rd session from November 27 to December 6, 2023.
Meanwhile, the IMO Council also endorsed the World Maritime Theme for 2024: "Navigating the future: safety first!"
It said that the theme reflects IMO's work to enhance maritime safety and security, in tandem with the protection of the marine environment, whilst ensuring its regulatory development process safely anticipates the fast pace of technological change and innovation.