STEFAN SCHULTE TO REMAIN FRAPORT CEO FOR ANOTHER 3 YEARS
September 15, 2023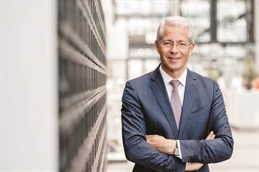 Fraport AG announced that Dr Stefan Schulte would remain as its chief executive officer (CEO) for another three years after its supervisory board approved the extension on September 15.
The move means Schulte's contract will continue from September 1, 2024, until August 31, 2027.
In the announcement, Fraport noted that by taking the step, the supervisory board is recognizing Schulte's success in developing the Fraport Group's business both inside and outside Germany. 

"Stefan Schulte has forged a sustainable strategy, transforming Fraport into one of the world's leading international airport operators. Fraport is successful and heading in the right direction," said Michael Boddenberg, the state of Hesse's finance minister and Fraport AG's supervisory board chairman.
"Despite the significant turbulence during the coronavirus pandemic, Dr Schulte has remained committed to important future-focused projects and has made significant progress with their implementation," he added.

One initiative launched under CEO Schulte is Fraport's commitment to operate carbon-free across the Group by no later than 2045.
In addition, significant infrastructure expansion projects are underway in Frankfurt, Lima, and Antalya.
"By keeping Stefan Schulte in the lead management role, we're sending a clear signal about Fraport AG's development going ahead," said Boddenberg, adding that Schulte will also set the right priorities for the future of the company and its employees while further reducing the pandemic-induced high debt.
"We expect that he will make strategic adjustments where necessary and will conclude some major projects to drive growth. We're confident that Dr. Schulte will be able to call on his many years of experience to achieve these goals. On behalf of everyone on the supervisory board, I wish Stefan Schulte and the entire executive board every success as they continue their work."
Schulte started his career at Fraport AG as the company's Chief Financial Officer. In addition to the role as CFO, he was appointed deputy chairman in April 2007. He has served as Fraport's CEO since September 2009.